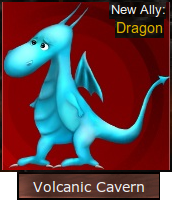 The Dragon is an Ally that you might encounter in The Volcanic Cavern (and possibly in other areas). You have the ability to name it freely at your choice.
Lvl 31: Vicious Bite (300-500 damage)
Lvl 39: Double Claw (500-700 damage)
Lvl 47: Frozen Breath (600-800 damage)
Lvl 49: Flame (500-900 damage)
Lvl 60: Extreme Heat (2000-2200 damage)
"The cute dragon glides down to offer you a ride on its wings."
Skill Progression
Edit
| | | | | |
| --- | --- | --- | --- | --- |
| | 1 | 2 | 3 | 4 |
| Vicious Bite | 300 | 330 | 360 | ? |
| Double Claw | 360 | 396 | 432 | 468 |
| Frozen Breath | 440 | 484 | 528 | 572 |